Short Story
Help Trudy & Kevin build a basketball court with WAKE & Team Up that will empower the next generation of women leaders.
Help Trudy & Kevin build an outdoor basketball court in Conakry, Guinea
$15,000.00

Funding Goal

$400.00

Funds Raised

0

Days to go

Target Goal

Campaign End Method
1 Campaigns | 0 Loved campaigns
Campaign Story
Team Up to Build a Basketball Court in Guinea!
Team Up, Inc. is excited to be teaming up with Women and Kids Empowerment (WAKE) to build a basketball court in Guinea. WAKE is a non-profit organization started by former University of Connecticut Women's Basketball player Batouly Camara. WAKE's mission is to empower young women in Guinea by using basketball to teach transformable life skills. The purpose of this court will be to provide a safe space for girls to play basketball. Girls and women will have a place to play, build community, encourage teamwork, and teach leadership skills.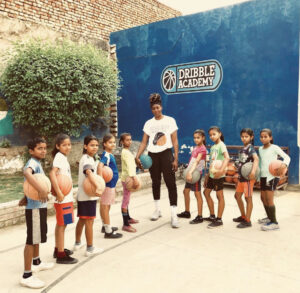 Team Up & W.A.K.E. 
At Team Up, we believe in the power of sports. Every child of the world deserves a place to play. Like Nelson Mandela said in 2000: "Sports have the power to change the world. It has the power to inspire, the power to unite people in a way that little else does. It speaks to youth in a language they understand. Sports can create hope, where there was once only despair. It is more powerful than governments in breaking down racial barriers."  We believe this court will empower this community of young women to become future leaders through sports.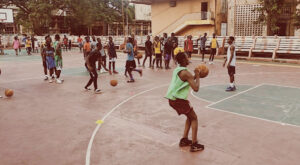 Why donate to this project  
Currently, in the country of Guinea, there is only one basketball court for a population of 1.6 million people, 75% of the Guinean population is under the age of 25 years old (41% under 14 years old). WAKE has now worked with 792 kids, 33 coaches, and 165 women across 4 continents and 8 countries with 10 camps total since its inception in 2017. With the Team Up partnership and a secured piece of land for the court there is no doubt this project will leave a lasting impact with young women in Guinea.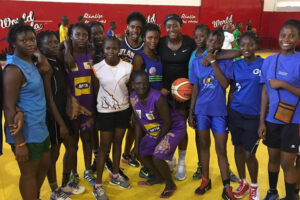 Name
Donate Amount
Date
Anonymous

$

51.80
October 06, 2021
Triantafilos karamitros

$

26.06
October 06, 2021
Michael Buffalo

$

26.06
October 06, 2021
Anonymous

$

257.78
October 06, 2021
Lynda Omokaro

$

51.80
September 01, 2021